"There was a time when people felt the internet was another world, but now people realise it's a tool that we use in this world. " – Tim Berners-Lee
We are Bitcraft, the developers you wish you met the first time.
Bitcraft is an independent digital development agency based in Glebe, Sydney. Our skills encompass all areas of web development including business analysis, UX, graphic design, web programming, SEO, website hosting and online marketing.
Founded in 2008 by Director Ryan Sabir, Bitcraft was borne of a need for a more focused, yet cost effective approach to website development. Often agencies either try and fit a client's need into a pre-defined template or offer a custom solution that is not cost effective. There was a gap in the market for an agency that could offer a fully customised website solution, at a reasonable cost.
To achieve this, we take advantage of the many open source technologies available to the industry. This enables us to build solutions that have a tried and tested foundation but are infinitely extensible and customisable to fit your needs. The open source technologies we use include: Linux, PHP, MySQL, Apache, WordPress and many more.
There is no task out of the scope of what we can create. Some of the projects we have built based on open source technologies include:
A crowd-sourced data-gathering tool for marine data.
An up-to-the-minute news resource for the printing industry, powering customised email newsletters.
An online hearing survey featuring a live interactive hearing test that works from your desktop, tablet, or mobile device.
We love to write code, our breadth of knowledge spans most technologies you will come across online. We are also dedicated internet users ourselves so we know how your users think and work and the best ways to reach them.
Come and chat to us about anything to do with:
Website development
Online marketing strategy
Search engine optimisation
Intranet / extranet development
Online games
Email marketing
About Ryan Sabir – Director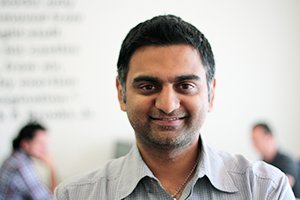 Ryan has had over 18 years experience in the new media industry. After graduating from the University of Technology, Sydney in 1996, he worked for a number of the leading new media agencies of the time. In 1998 he began setting up his first agency 'Technogaga' specialising in multimedia software development, as well as the burgeoning online industry.
In 2001, Technogaga merged with the design agency Creative Village to form the new media agency, Newgency. Newgency quickly grew to become one of Australia's premier web and multimedia development agencies with clients such as AAPT, The Australian Consumer Association, Hewlett-Packard, Miller Fluid Tripods, Novogen, Qantas Holidays, NSW RTA and Symantec. Ryan was Technical Director of Newgency, managing a team of skilled developers.
In 2007, Newgency was acquired by the STW Group and merged with one of their design agencies, Moon Communications to form the Moon Communications Group. Here Ryan was exposed to some of Australia's best known brands including Qantas, Jetstar, Sunglass Hut and Westpac.
In 2008, Ryan felt the need to refocus and regroup. He left the Moon Communications Group to form his own company, Bitcraft. Drawing on the pool of talented developers he had worked with in the past, he drew them together once again to form the core of this new digital powerhouse.
Ryan's experience in the industry has led him to build Bitcraft around some simple philosophies:
Online endeavours needs to be results driven. Clients need to know at all times where their online dollar is being spent.
Web professionals work best in an environment that understands and supports their unique needs.
There is always something new to learn – don't become complacent.